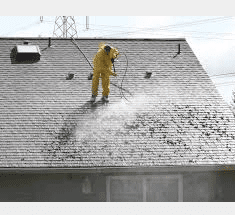 Power washing brick house, Vinyl Siding, Cedar Siding, Decks, Fences, Patios, Walk Ways, Cement Floors
Power washing is the most thorough and deep cleaning technology available today for all exterior surface cleaning. Care needs to be taken that the pressure is not too high, the chemicals not too harsh, and never should hot water or steam be used on any wood surface. Did someone vandalize your property with graffiti that you are unable to get rid of with store-bought chemicals? Power washing with our professional chemicals diluted with hot water would do the job without causing any damage to your property.
Our state-of-the-art equipment is highly effective in sidewalk and driveway power washing. Our highly trained staff takes full precautionary measures not to cause any damage to your meticulously cared for shrubs, lawn, plants, or other decorative items while power washing brick house from the outside. You would be surprised to see results of the facade and roof power washing that removes dirt from the nooks and corners that are unreachable for you to clean regularly.
All Clean CT is well experienced in making your home, deck or walkway look like new, with our advanced residential power washing services. This is why you need to hire a professional that has been in the business for almost 20 years!
Our experienced staff has the professional know-how and take precautions to avoid even minimal denting while power washing aluminum siding. Experts at All Clean Services make sure not to direct the pressure into the seams while power washing vinyl siding to avoid getting any water on the other side. Please give us a call to review your one-time power washing needs or get an estimate for periodic cleaning.
References are available for all services we provide!
Save
Save